English
Welcome to the English Department at Bexley Grammar School!
In line with the school motto, the English Department at Bexley Grammar School aims to provide the means, environment and opportunity to allow all our students:
To develop an enthusiasm for, and expertise in, reading and writing; and to develop the desire and confidence to share that enthusiasm with teachers and peers (INTELLECT);
To become creative, autonomous and critical thinkers, who are not afraid to express their opinions and responses (COURAGE);

To explore how literature, journalism and non-fiction writing encourage us to embrace a broader cultural, social and historical understanding (EMPATHY).
key stage 3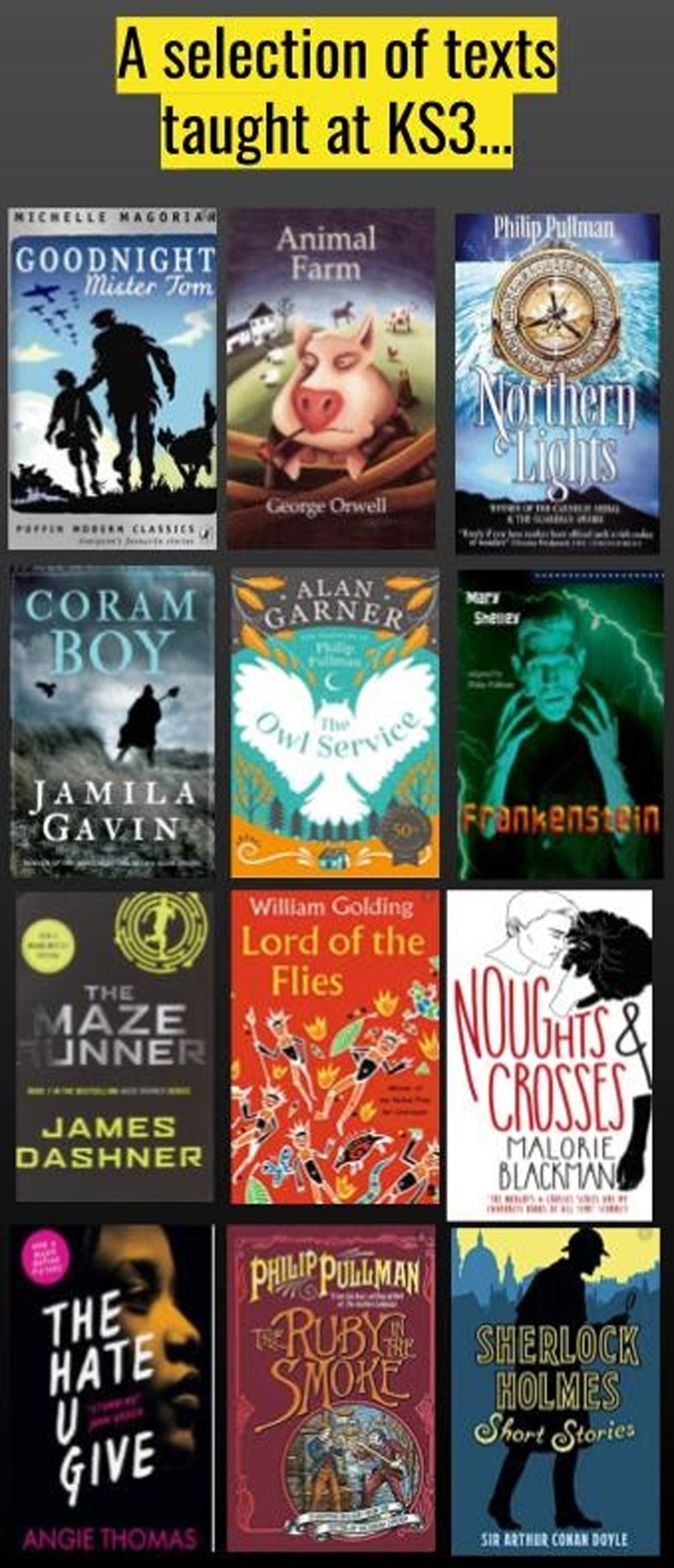 At Key Stage 3, we aim to foster a love of both English and learning that will flourish during students' time at our school. Lessons are engaging and promote resilience, empathy and creativity.
Each child will study writing skills, a modern text, a Shakespeare text, poetry, a playscript, a non-fiction unit and reading skills in their first year. We also focus on teaching the students to apply spelling, punctuation, grammar and speed reading skills to their writing. As well as reading novels and reading and writing poetry, the course encourages dramatic interpretations of texts and moving image analysis. We believe it is important that students learn how to read 'media' texts as well as books, therefore, they are given various opportunities to develop their writing style in different genres. Students are able to develop their speaking and listening skills through drama, debate, group work and presentations. This lays a foundation for skills needed at GCSE and IB level, as well as boosting confidence and communication skills.
We are proud of our diverse community at BGS and offer a range of traditional and contemporary texts to inspire and challenge our diverse cohort of students. They will typically study and read the whole of at least two longer texts, whilst engaging with a variety of extracts as they progress through the year. These texts include: 'Animal Farm' by George Orwell, 'Coram Boy' by Jamilla Gavin, 'Noughts and Crosses' by Malorie Blackman and 'Sherlock Holmes' by Arthur Conan Doyle. (Please see image below for the full range of whole texts that are taught).
In Year 7, the department teaches a 'Let's Think' lesson once a fortnight in which students' higher order thinking and understanding is challenged and stretched through a range of exciting texts, questioning and discussion. These lessons are extremely popular with all students as they are given the opportunity to discuss independently and feel real ownership over their learning.
As a department, we feel reading for pleasure is central to every student's ability in English. Therefore, students have a regularly scheduled library lesson, where they are encouraged to bring the books they are reading at home to school to promote a positive reading environment. In addition to this, we run the Junior Book Club for Key Stage 3 students. Here, they have the opportunity to discuss their wider reading, enter local and national competitions, judge books for National Projects, including the Royal Society's Young People's Book Prize and share their love of a range of books.
key stage 4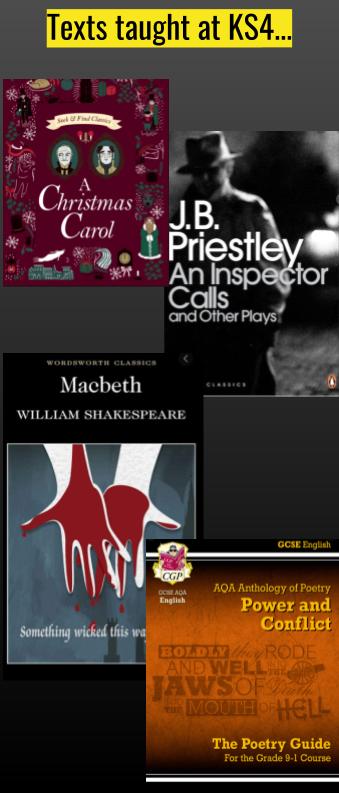 At Key Stage 4, we continue to develop the skills and interests acquired in Key Stage 3. Students are introduced to modern and more traditional poetry, playwrights and novelists from England and other cultures and more focused essay-writing and speaking and listening skills. All pupils take AQA GCSE English Literature as well as English Language.
Both GCSEs are assessed solely through examination. There are two papers for English Language, one with a literary focus, the other with a non-fiction one. Both comprise five questions - four that test candidates' reading skills and one written task. English Literature sees students study a range of poetry, prose and drama, the set texts being A Christmas Carol, An Inspector Calls, an Anthology of poetry from a variety of time periods entitled 'Power and Conflict', and the Shakespeare play Macbeth. Most years we are able to take students to see at least one live performance of these, or invite travelling companies to come to BGS to bring them alive.
The Speaking and Listening component is separate to the GCSEs. It is a brief individual presentation on a topic of the students' choice, and they are awarded a Pass, Merit or Distinction.
key stage 5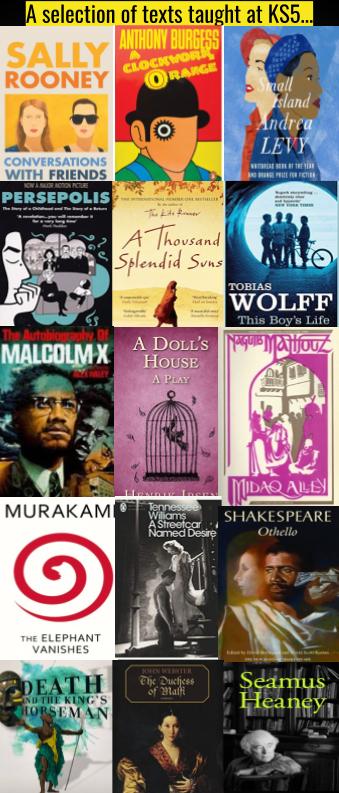 Every IB student takes English Literature at Higher or Standard Level. The IB course consists of oral and written assessment. In the Higher level, 13 texts are studied across 4 genres, 3 time periods and 3 different places. The focus is on breadth, giving the student an overview of literature they may enjoy and engage with and an understanding of playwrights from Shakespeare to Ibsen; texts from other cultures also make up the syllabus, which could be a selection of African, Irish or French texts; a wide variety of poetry and non-fiction are also studied. Students are then assessed on these texts in a assortment of ways varying from conventional exams and coursework to oral presentations. The Standard English IB course is similar, offering the same exciting breadth and variety of assessment just with slightly fewer texts to study across the two years.
There is also a regular Book Club for Sixth Form, visiting lecturers and many trips to the theatre, opera, cinema through the Sixth Form 'Culture Club', led by Ms Hanington and Ms Stoddard, both members of the English Department.
extra curricular activities
We are proud of the array of extracurricular opportunities we offer as a Department. Many of these are student-led…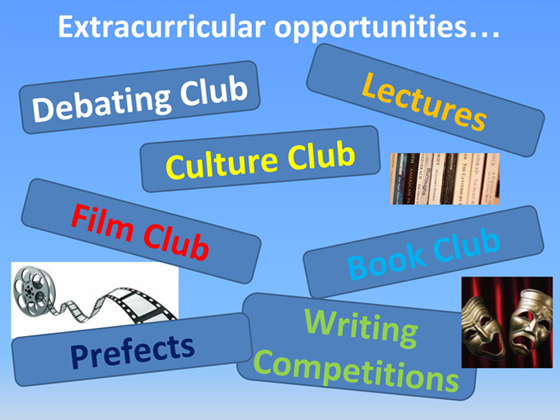 English Photo Gallery