The Sakura Project Tree Planting Ceremony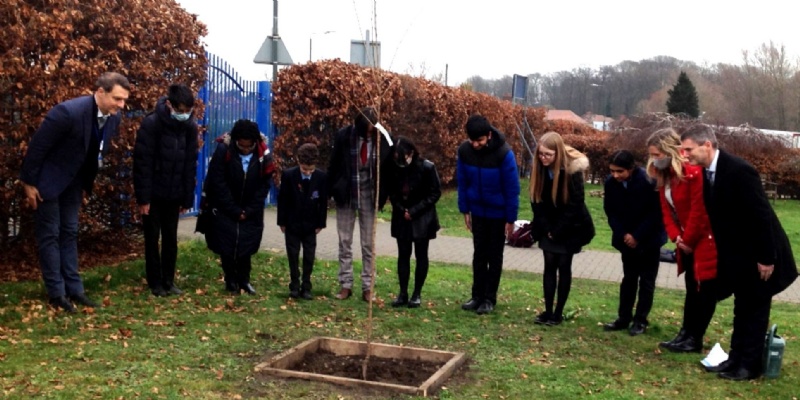 Some of you may have noticed the new addition to the school grounds. Some of you may even have witnessed the planting ceremony from your form or office window on the chilly (but thankfully dry!) morning of 26th January. But, thanks to the Japan Society and in recognition of the school's ongoing efforts to promote learning and understanding of Japanese language and culture, Bexley Grammar is the proud recipient of a beautiful young Somei-Yoshino cherry tree sapling.
The cherry tree and its blossoms are one of the most immediate and
enduring symbols of Japan. You can find it on their currency and displayed proudly on the chests of the country's national rugby teams. And pretty much every tourist montage of Japan includes masses of the pink and white trees in full bloom. In Japan hanami - cherry blossom viewing - is one of the most eagerly awaited events of the year, with tens of millions of Japanese heading to sit beneath their nearest cherry trees and gaze up at their beauty. With some tasty snacks, too, of course!
The gifting of the tree is part of The Sakura Project, which was launched in the autumn of 2017 during a meeting between the Japanese and British Prime Ministers of the time as a symbol of and means to deepen ties between the two countries. Mr Elphick and Mrs Meyer were guests at the ceremony alongside students from Year 8 – Year 13.
Mrs Meyer, who has been involved with the project from the outset four years ago remarked how neatly this mirrored our students' journey through KS3 and KS4 up to GCSE. Mr Elphick remarked that he hoped that the event would also mark a return to the normal running of our exchange programme with Keio Shonan Fujisawa School.
Ashna Adhikari, a Year 8 student of Japanese said of the event, "The tree planting ceremony was a very special event to me. I love how through it, I was able to expose myself to Japanese culture by experiencing this event. Sometimes, we have culture lessons in our Japanese classes, which help to show me the importance of the Sakura tree to the country. I think culture plays a crucial part in Japan, so I'm glad I was able to learn more about Japan with this."
The blooming of cherry blossoms is very much determined by climate and weather and the Somei-Yoshino tree that we now have can be expected to put forth its white blossoms in late March or early April, allowing us to do our own hanami here at Bexley Grammar School.
Mr Adams, MFL Department