UKMT Intermediate Mathematical Challenge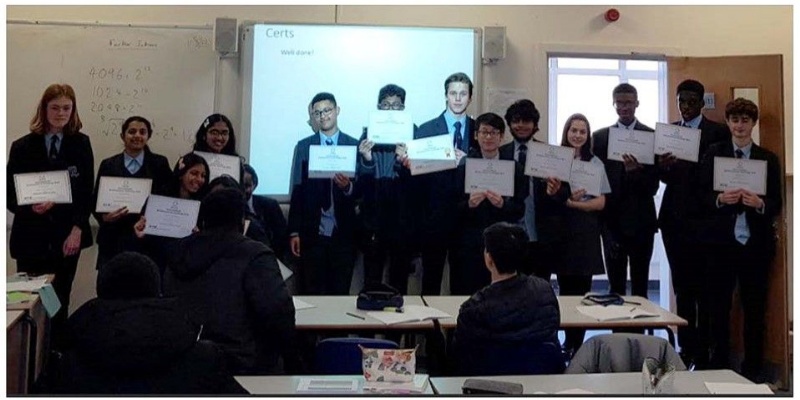 The Intermediate Mathematical Challenge (IMC) is a 60-minute, multiple-choice
online Challenge which takes part once per year.
It encourages mathematical reasoning, precision of thought, and fluency in using basic mathematical techniques to solve interesting problems which are designed to make students think. At BGS we invite students in Year 11 to take part in this competition.
One of this year's IMC questions was:
The solution is at the end of this article.
This year at the beginning of February we had 21 students take part in the IMC and we had some amazing results including 8 Gold certificates, 9 Silver certificates and 3 Bronze certificates.
Five students with Gold certificates took part in the follow-up competition, the Pink Kangaroo. Massive congratulations to Max Jansen and Edgar Fedorcenko who achieved certificates of Merit - this means they were in the top 25% of participants in the Pink Kangaroo across the country (and the top 2 of all participants in the IMC). Nazar Androshchuk had the best IMC results in the school and did well enough to be invited to take part in the Maclaurin Olympiad (an even more exclusive competition than the Pink Kangaroo!) We are still awaiting results from this, but just to be invited to take part in the Olympiad is an amazing achievement!
Mr Whittaker, Mathematics Department
As a student who enjoys maths a lot, the UKMT maths challenge was an amazing opportunity for me to test my knowledge. This challenge allowed me to apply my mathematical and reasoning skills to thought-provoking questions outside my GCSE curriculum. I thoroughly enjoyed practising (although some questions took me longer to answer). I am eagerly looking forward to participating in the future challenges as well and my profound regards to the organisers for giving this opportunity to me.
Sai Shinjitha Maganti, Year 11
The experience was quite novel as it was online. Although there were easier questions and those similar to GCSEs, towards the end definitely challenged thinking and involved deeper mathematical understanding. Overall, it was an enriching experience, and I would encourage others to try it out.
Kalyani Vishnu, Year 11
The UK Maths Challenge was personally an exciting experience for me. I faced a lot of difficult questions and I think it helped me develop my understanding of mathematics even more.
Pranshu Sheel, Year 11