Banksy - an anonymous graffiti artist, inspiring millions around the world. . .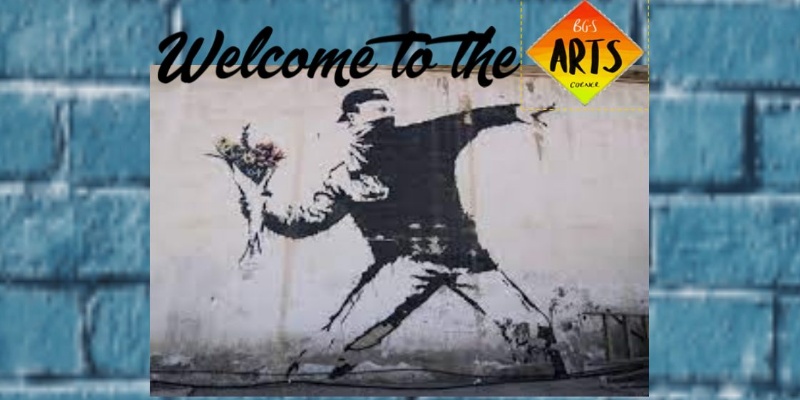 Banksy is a British anonymous graffiti artist, political activist, film director, sculptor and author, and uses their art to loudly proclaim their dissatisfaction with certain aspects of society, political situations, and even decisions made by world leaders. Their work pops up in multiple public places, such as the walls of buildings. Their style is easily recognizable, as it has remained consistent throughout the years.
A little background information. . .
The aspiring creator was born in Bristol in 1974, and is said to have been a pupil at Bristol Cathedral School and also to have attended St Brendan's Sixth Form College. They began as an artist at the age of 14, and was expelled from school and served time in prison for a petty crime.
The beginning. . .
The artist began their career in the early 1990s. Banksy admired the works of Blek Le Rat, and often recycled the artist's old ideas, moulding their own distinctive voice and style as they went. Initially, they were part of a graffiti crew in Bristol by the name of DryBreadZ crew or DBZ, and occasionally used stencils for their work. In the late 90s, they began using stencils predominantly. Later on, they started sharing their art on social media. Their first known mural was a piece called "The Mild Mild West", which was created in response to police armed in riot gear attacking party goers at an event at Winterstroke. The image depicts a teddy bear tossing a moatov cocktail at policemen in riot gear.
A rise in popularity. . .
Banksy was noticed as a freehand artist in 1993, and had numerous newspaper articles written about them. Using stencils since 2000 to enhance their speed, they developed a distinctive iconography of highly recognizable images, such as rats and policemen that showed their anti-authoritarian message. With wry wit and stealth, Banksy merged graffiti art with installation and performance. Their work has been featured in multiple museums, somewhere Banksy them self came and performed. Their most famous work of art is a piece called "There is Always Hope", which depicts a small child reaching out for a heart-shaped balloon, which is believed to represent love, hope, innocence, childhood and self-confidence. It's thought that the piece symbolises losing something which is within your grasp. Etched into the wall to the right of the little girl, are the words THERE IS ALWAYS HOPE.
Some fun facts. . .
The identity of the graffiti artist has remained anonymous, however Banksy's real name is thought to be Robin Gunningham, as first reported by The Mail on Sunday in 2008.
Love is in the Bin has officially become the most expensive Banksy artwork ever, auctioned off at $25.4 million.
Banksy's net worth is estimated to be £39.9 million.
Approximately, the graffiti artist has created over 2000 pieces.
Click here to view the Banksy art gallery
Alex Potocnik Hahonina, Year 8 Art Prefect