IB Success for BGS Students!
Congratulations to our Year 13 IB students and their teachers for their IB results, which were released on Thursday 6th July. We're very pleased to see that after the Covid-affected last three exam years, we have exceeded our 2018 and 2019 results and delivered some excellent outcomes for our students.
To maintain last year's average point score of 34 points is a superb achievement and the high number of grades 7-5 is particularly pleasing. I'm sure these results will give our students many opportunities at university or in the workplace. Whilst the World averages for this year are not available as I write, I thoroughly expect the achievements of our students to outshine their global counterparts.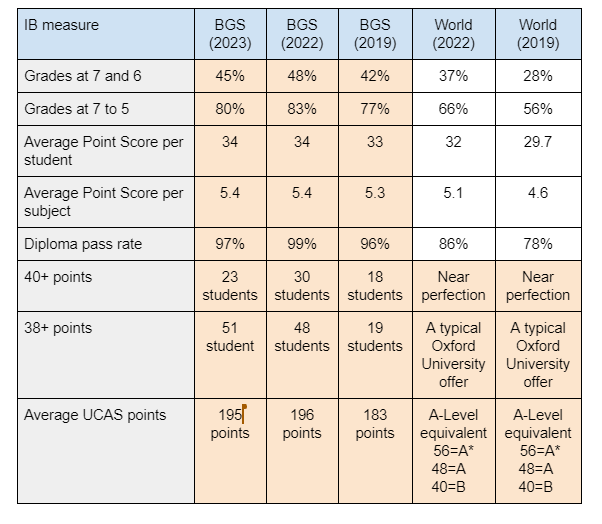 Three students, Alvyn Fiador, Louis Murrell and Aditya Manivannan, scored 43 points whilst 23 students scored 40 points or more. 51 students gained 38 points or more, exceeding a typical Oxbridge offer. This is a tremendous achievement for those pupils but I'm very proud of all of our students. This cohort was experiencing the pressure of 'real' public examinations for the first time and, unlike the 2022 cohort, did not experience the benefit of abridged topics / examinations.
At the time of writing, over 140 of our students have secured their university place whilst a number are entering prestigious apprenticeship schemes. For those in need of any advice or support in taking their next steps please do contact the Sixth Form Team via the support form sent by Miss Aspill.
Congratulations, Year 13!
As a flagship for the IB, Bexley Grammar School has the only fully-IB Sixth Form in a South East London borough and stands proudly alongside the highly successful IB grammar schools across Kent which deliver the depth, breadth and challenge of the IB Diploma, demonstrably the best preparation for higher education and for a fulfilling future.