Upskill Me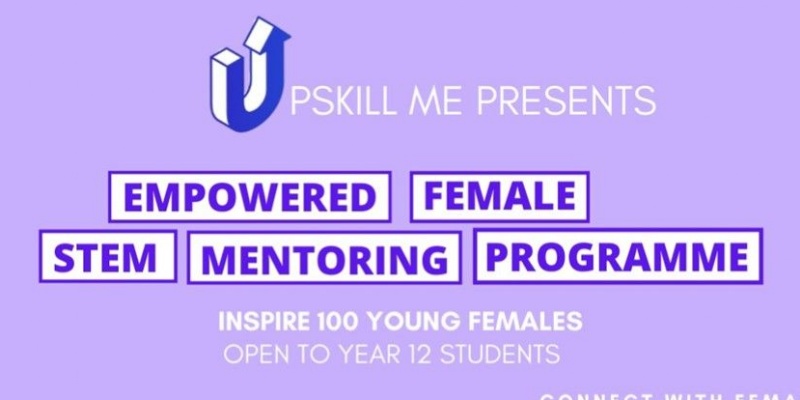 Upskill Me
Upskill Me are running a brand-new programme to break the glass ceiling and empower young women and non-binary students to enter the world of STEM careers. As a school we were invited to nominate 10 students in Year 12 and 6 of ours were successful in getting accepted on the course! An impressive feat when over 600 people applied for the 150 places. They are:
Lora Stancheva, Leila Thaifa, Bianca Daniele,
Mayukhi Panda, Christabel Masaba and Francesca Adeloye
Congratulations!
Ms Lusted, STEM Coordinator
This programme is for girls and non-binary people in Year 12 who have an interest in STEM, and allows us to meet once a month with STEM professionals from employers such as Facebook, Google, UCB and Atkins, who share their own experiences as women in STEM with us.
The sessions are engaging and let us interact with a lot of amazing people in STEM, who really help you understand what a career in STEM is like, and how to thrive in one. I would recommend this program to girls who enjoy STEM subjects, as I feel it has been such a great opportunity to meet and get to know new people, as well as to get more experience around work and practical skills.
Mayukhi Panda, Year 12
The Women in STEM programme is a 6-month course for non-binary and female pupils interested in science, technology, engineering, or maths. It provides group mentoring sessions, work experience and workshops, plus the amazing chance to meet females in top UK companies.
I think it's a wonderful opportunity as you get to be around other non-binary and females who have a passion for these academic areas. It really is empowering being in a room – or zoom rather – with people you can identify with and look up to. I've found these sessions have made seeing myself in a STEM career more vivid, simply by seeing a fellow woman there. They also teach you how to present yourself professionally, which builds your
self-confidence. I would definitely recommend it to other non-binary/ female pupils currently enjoying their STEM subjects.
Christabel Masaba, Year 12