Big Band Theory perform at Music for Youth, Regional Festival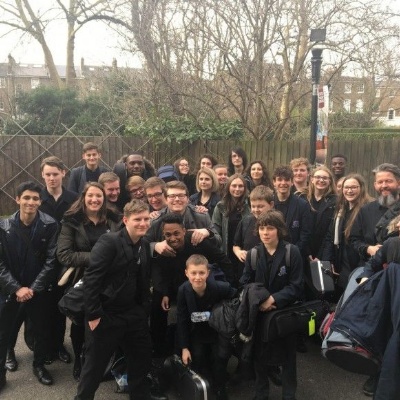 On the 19th February, the members of The Big Band Theory (the new name for the Big Band…) travelled to Camden to partake in the regional heats of the 2017 Music For Youth competition, and to hopefully follow on the success of the Improv Group last year.
The set was made up of two contrasting songs. First up was "Boz" by Jeff Jarvis, a laid-back funk tune with a focus on individual soloists; followed by the Charles Mingus classic "Moanin'", which could get extremely chaotic with moments where everyone improvised at the same time. This created a varied set, showcasing two contrasting styles of Jazz - something on which the judges commented particularly.
Both songs performed were praised highly by the judges, with the band having a "real grasp" of what it meant to play as a big band. Specific members of the ensemble were also praised - from a "fabulous" saxophone solo, to the "delightful" addition of euphoniums (every section was mentioned!).
All in all, it was a great opportunity to perform in a new venue - especially in London; and the entire band played extremely well.
Aaron Harrex, Year 13 Music Prefect