Spring Concert Review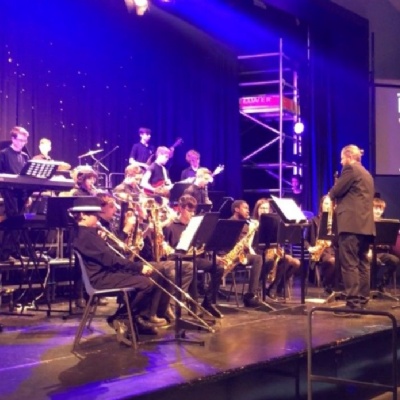 Monday 26th March saw our whole school Spring Concert take place, with a theme of 'A Night of Music from the Movies'. The concert started with Symphony Orchestra performing the Main Title from Star Wars; a famous theme which proved to be far more challenging in its original form than any of us realised! However, the orchestra rose to the challenge admirably, and provided a dramatic start to the concert.
We were treated to a medley from Lord of the Rings by String Orchestra, and Junior Orchestra tackled the themes from James Bond's 'Skyfall' (made famous by Adele) and Game of Thrones (not strictly a movie theme!). It is brilliant to see all the new members joining our Junior ensembles; Junior Orchestra has tripled in size since Christmas! As our Year 13's start to think about their futures, and we realise we will soon be losing some of our most dedicated musicians, it is really inspiring to see the new generation of musicians coming through.
We were thrilled to be joined by the Marlborough School Choir (Marlborough School is in Sidcup, and is a school for students with severe learning difficulties). Senior and Junior Choirs joined together with them to perform 'This Is Me' from The Greatest Showman, with all BGS students signing the chorus in Makaton along with Marlborough. This was a powerful performance and reminds us of the importance of community music making; I hope that there will be more collaborations with Marlborough soon.
Other highlights included Junior Jazz's energetic rendition of You Can't Turn Me Loose from The Blues Brothers, and Junior Chamber Choir (directed by our Singing teacher, Miss Wyllie), who sang a beautiful arrangement of A Thousand Years, as heard in Twilight: Breaking Dawn.
The Senior Chamber Choir performed a fun gospel number from Sister Act, which featured Year 12 student Kenya Lawrence in a stunning solo, and James Walker in Year 10 on piano.
Big Band finished the evening with another challenge: the theme to Whiplash, a ridiculously hard number which is extremely fast and in 7! It was a suitably exciting end to a very high quality and inclusive concert. Thank you and congratulations to ALL our performers, which featured over 10% of the school from Years 7-13, and big thanks to the members of the Music department who worked so hard with their ensembles this term: Mrs Casling, Mrs Eacott, Mr Laing, Mr Ross, and Mr Cooper (Clarinet Choir), Miss Wyllie (Junior Chamber Choir) and Mr Crocker (Brass Ensemble).
Miss Swadkin, Head of Music