Sixth Form Italian Exchange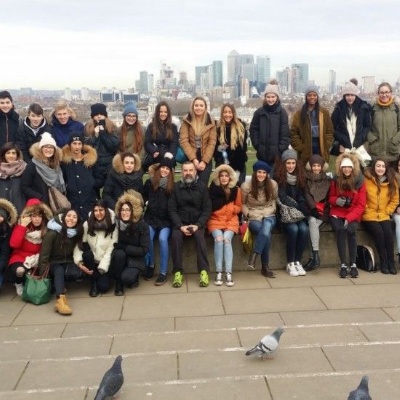 On the evening of Friday 2nd February, a group of seventeen Year 12 and 13 students were excited to meet their Italian exchange students, arriving from Siena. Over the course of the following week, we engaged with these students to develop both our Italian and their English skills. On the Saturday morning, we all took part in a short treasure hunt around Bexleyheath, allowing us to get to know each other. Some of us then went to explore the pleasures of Bluewater, which, coming from a small town, our Italian friends thoroughly enjoyed. Sunday was spent with families - my student, Emma, experienced unusually deserted Central London streets whilst cheering me on in the Cancer Research Winter Run, then afterwards, being scared at the London Dungeons!
The students spent Monday in BGS with us, sharing in our normal IB lessons. We enjoyed "speed dating" in our Italian lesson, getting to know the other exchange students, without using our mother language.
On Wednesday we accompanied the Italians around Greenwich, seeing the Meridian line and the Cutty Sark, before taking a chilly riverboat trip to the South Bank then on to Covent Garden. To round off the visit, we enjoyed a dessert together at Creams, then said farewell to our students on the Friday morning. We are all very excited to be seeing them again, when we travel to Siena in April, where we can practise more of our Italian.
Thank you to the MFL staff, especially Mrs Rubbera, for arranging this opportunity for us.
Matthew Lay, Year 12