Oliver opens BGS Theatre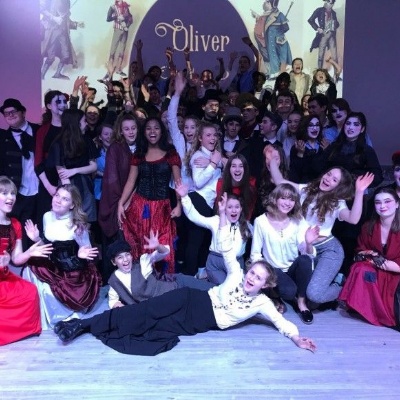 Friday's performance of "Charles Dickens' Oliver Twist", on the first day of December, was the perfect occasion to open, officially, the new BGS Theatre. The event began downstairs in the new Sixth Form Study Centre with bubbles (courtesy of the PA which also provided refreshments for the interval) and canapes (which had been created only an hour or two earlier as part of the Senior House Cookery Competition). We were pleased to welcome previous Headmaster, Mr Jones (1976-1995) and his wife, governors, councillors, long-standing friends of the school and a host of alumni to mark this happy event.
Upstairs, in the new space with retractable seating for an audience of 200, Bethany Webster, celebrated the opening of the theatre by revealing a plaque to commemorate the occasion (a little envious that she hadn't been able to perform in it!) and outlined how important it would be to the future of so many students in years to come. Bethany was involved with several productions during her years with us and is now in her second year at Birmingham University. (She is also a granddaughter of the late Reg Bowen, long-standing governor and friend of the school who would have been thrilled to see this new development, being one of the members of the PA who actually built the Sixth Form Centre decades ago.)
The cast and crew under Mr Otley's leadership really made the space their own with an energetic and very entertaining Performance of the stage play of Oliver Twist. Students report that "it feels like performing in a real theatre"; certainly the audience felt that it was experiencing a performance in a real theatre, complete with some sophisticated lighting effects and use of projected images. The energy and enthusiasm was palpable and the physical theatre skills were impressive; a great way to start the
Christmas season.
Congratulations to all involved (and a special thank you to the PA) and a huge thank you to Mr Otley, Miss Gabriel and Mrs Brazier for their work to inspire our students to perform with such confidence. Look out for Shakespeare in the Spring!
Mr Elphick
From the cast
After many long weeks, the play is finally finished. four amazing performances from two great, hardworking casts which started with over 140 people at the auditions.
After taking part in two drama productions in Year 7, I was eager to be involved again this year and it didn't disappoint. I've enjoyed meeting new friends from all year groups - and the buzz of performing makes all of the after school rehearsals well worth the time and effort. It has been a lengthy process, but not lacking the fun and laughs always provided in BGS drama productions. I loved playing my part in the play - Charley Bates - as I am usually the annoying one who always laughs in real life, this part suited me really well and being a victim of attempted murder just sweetened the deal.
A massive thanks is due to the drama department and Sixth Formers who have spent countless hours helping us improve and develop in drama, as well as making this amazing production. I am looking forward to the next production (fingers crossed!), Romeo and Juliet and highly recommend anyone interested in drama to come to the auditions too - you won't regret it.
Many thanks again to everyone who has taken part in the making of the production.
Max Dawkins, Year 8
This year, I had the pleasure of being a part of the amazingly talented cast of Oliver Twist. We were lucky enough to have had the opportunity to perform in the new drama space (K10), making Oliver Twist the first Christmas play in the auditorium and hopefully many more to come!
Like every other year, we welcomed many new faces into the cast, many of which were Year 7s. The experience of being part of these plays is made even better by being surrounded by so many talented and friendly students who are all as invested in making our annual drama production the best it can be as each other. We all share a love for drama and it's very fulfilling to put work into something that is so worthwhile and fun to do.
The people behind this wonderful experience, however, are the Drama teachers and prefects involved who work tirelessly and in their own free time to get the productions running smoothly. Without the work of people like Mr Otley, Ms Gabriel and Ms Brazier, we would never be able to put on such amazing shows every year.
Isabelle Eaton, Year 10
A final note of thanks
A special word of thank you to the Parents' Association for catering the event on Friday, but also providing the cast with so much squash and biscuits that they were able to have them at the next two shows as well!
I would also thank Evy Williams for the donation of her Jack Petchy award money to the department. It was used to purchase the materials to build the set, the doorways, coffin and fireplace - further to this the always amazing Martyn Bain for building these items for the show!
It has been a truly wonderful show and I don't know if people realise how much hard work and commitment it takes from the kids to put a show together, it's an incredible achievement - perhaps all the more incredible that some of them do it three times every year!
Mr Otley, Head of Drama & Theatre Studies