KS5 Showcase & the Annual BGS Christmas Concert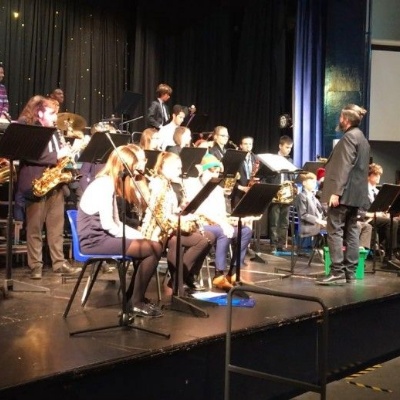 A busy fortnight for the Music department with our KS5 Showcase last week, which featured our Sixth Formers performing pieces to be recorded for their IB portfolios, and A-Level recitals. We were treated to a beautiful performance by the Chamber Choir of 'Winding Road' by Thomas Hewitt-Jones; the composer tweeted us afterwards that he was thrilled school choirs are singing his works!
On Tuesday 5th December, we held our big Christmas Concert, which featured all thirteen of the ensembles which rehearse every week. This ranged from Junior Orchestra, Choir and Jazz to the Senior Ensembles (Symphony Orchestra, Senior Choir, Big Band), plus String Orchestra, Rock School, Chamber Choir (and Junior Chamber Choir in their debut performance), Clarinet Choir and Brass Group, playing music which ranged from Mozart's Magic flute, the Radetzky March, German Oom-pah music, to Uptown Funk, Ozzy Osborne and Bjork! The concert featured approximately 10% of the school performing, which is fantastic, and a wonderful number of Year 7's who have thrown themselves into the musical life of the school.
Thank you to Mr Laing, Mrs Eacott, Miss Radzvilaite, Mr Ross and Mrs Snelling for their enthusiasm and commitment this term in our extra-curricular activities. A particular thank you must go to our Music prefects who did a sterling job in supporting the department yesterday; they were all brilliant but Teshan Karunasekera, Eddie Stocker and Sophie Papworth from Year 13 deserve a special mention, accompanying a number of groups on keys, bass, guitar and drums for the various choir performances, all of which sounded more professional for their contribution.
Miss Swadkin, Head of Music