No Pens Day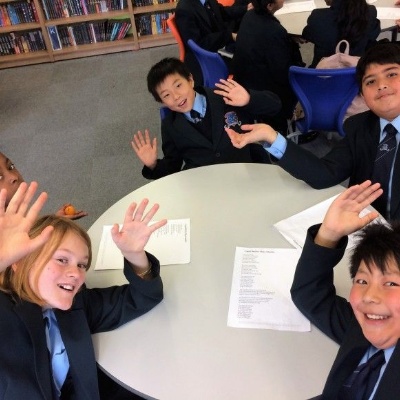 Today was very different from anything we have done so far at BGS. Pens and others writing materials were banned from all lessons! The day was all about talking rather than writing. We started off with Computer Science and we used 'Scratch' to create an awesome racing game. Next we had our Science lesson. Usually in Science we would be drawing graphs of previous experiments, but today we couldn't do this. The teachers chose the best bits out of our text books and we read them and shared the information with the rest of the class. Some people found hilarious ways of explaining their topic.
Later, in English, we all thought of words to go with the theme of 'Freedom' and Mr Griffin helped us to put them together to make a poem. At the end he read it out and it was great.
In our History lesson we acted out our anachronism posters. My group portrayed Henry VIII riding a motorbike and I think it was rather good.
In Maths, Miss Salp gave us word problems. They were tricky, but they made us think very hard. The fastest people to get the answers got merits so everyone was excitedly shouting out the answers to try to get one!
I really enjoyed a day free from writing and it meant we couldn't write any homework in our planner, so that was an added bonus!
Hannah Batt 7JED
Today was No Pens Day in school. That meant that in all of our lessons we didn't have to write. Instead, we did lots of fun activities that involved us using our eyes and ears more than our hands. It made a change to what we normally do, which made it very interesting to see how everyone worked without any pens. For example, in Maths we did a problem-solving sheet where we had to figure out a mystery by completing four different tasks, using what we had learnt recently. Working in teams showed how good our co-operation was and gave us a chance to work the way we wanted. Also, in English our class did a debate. We only had that lesson to prepare and do it. That also showed how well we could work in teams.
I think the main thing about No Pens Day is that we have a chance to properly take everything in and see how difficult we find it to learn in a different way. Because there is no writing involved, the teachers all did one thing in common - encouraged us to work in groups. I found that No Pens Day was a more enjoyable way of learning and we should do it more frequently: once a term or once a half term maybe. I hope that everyone else enjoyed the day as much as I did.
Rachel Smith, Year 8