GCSE Summer Success at BGS!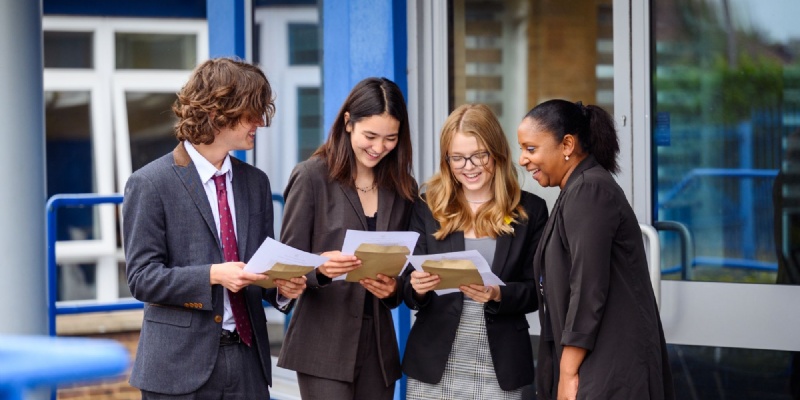 Congratulations to our fantastic Year 11 cohort, who this week achieved an excellent set of GCSE results.
Almost two thirds (65.8%) of our grades were 9-7, with 99.4% of grades being awarded 9-4 (or A*-C in older terms). These results surpass our 2019 outcomes, which was the last examination session not to be affected by the pandemic and so the most comparable:
| Figure | 2019 | 2023 |
| --- | --- | --- |
| Attainment 8: | 70.5 | 74.3 |
| 9-8 %: | 29.1 | 42.8 |
| 9-7 %: | 53.3 | 65.8 |
| 9-5 %: | 93.2 | 97.1 |
| 9-4 %: | 98.7 | 99.4 |
The students' individual achievements are also very strong, with the average point score of 7.10 (a secure 'A' grade) being higher than 2019 and 2020. I'm extremely proud of all of the members of the cohort, with over half (103 students) achieving 9-7 grades in their best 8 subjects and 137 students achieving 56 points from their best 8 subjects, the equivalent to an average grade 7 or above.
Incredibly, 2 students achieved grade 9s in all 12 of their GCSEs (Samuel Bowring and Alexander Innes). This is an incredible achievement, and my congratulations go to them. One student gained 9s in 11 of their GCSEs and an A* for A Level Maths (Edgar Federcenko). We have also been contacted by OCR to inform us that he was also the highest scoring candidate in both GCSE Chemistry and Biology this year.
A further 3 students achieved grade 9s in 11 of their subjects, including 9s in Further Maths GCSE (Edward Bourlet, Aaron Kiley, and Daisy Rowland) and 2 students gained grade 9s in 10 of their subjects (Summer Hewitt and Nathaniel Kunn). I'd like to heartily congratulate those students on those tremendous successes.
All of our students have achieved great success whilst studying the three separate sciences, two foreign languages and at least one humanities subject alongside Mathematics and both English and English Literature. I'd like to thank the school's teaching staff for their endless work and commitment to the students' success, and also to the parents and carers without whose support the school would not continue to be as successful.
I am very proud of all of our students' achievements this summer.
H.J. Gilmore
Headteacher