2017 Spring Concert Review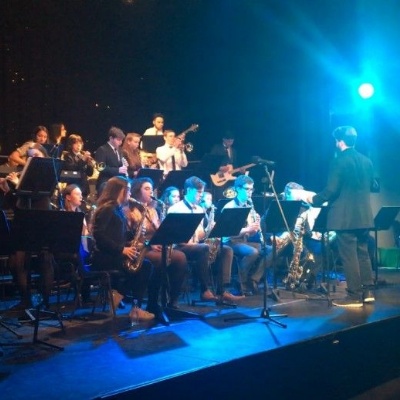 This year's big school concert took place on Monday evening this week, and featured a wide range of school ensembles. There was a wide range of music on display, including music from the opera, Carmen by Bizet, performed by Symphony Orchestra; Senior Choir performed a medley of music by McFly, and Chamber Choir impressed with their interpretations of Disney classics 'When She Loved Me' from Toy Story and a new take on the Monkey song from the Jungle Book.
Big Band were as brilliant as usual, featuring Joshua Hall singing Stevie Wonder's 'Once in my Life' and Jenni Hill singing the Nat King Cole classic 'Orange Coloured Sky', with all of Senior Choir providing the backing vocals! We heard some brilliant jazz clarinet from Year 13 IB Higher Music student Josh Masters, who performed Charlie Parker's Anthropology, a performance which was recorded and will make up part of his Performance Portfolio.
My favourite thing about this concert was the leading role taken by some of our Sixth Form Music Prefects; it is so brilliant to see how these students have developed over the last 5-6 years! Heather Goodchild is a Music Prefect, who volunteers to help with Junior Orchestra rehearsals every week, supporting younger musicians during the rehearsal. This term, she arranged a piece of music for them to play 'Go the Distance' from Disney's Hercules, and she even conducted them in the concert.
Luke Montgomery, another Year 12 Music Prefect, arranged the piece 'Strasbourg St Denis' for the Bexley Improv Group to perform, and they did a superb job with his arrangement. The Junior Choir demonstrated a high level of energy in their performance of 'Chattanooga Choo Choo', with some brilliant dance moves, and were accompanied professionally by another Year 12 Music Prefect, Jacob Mills.
We are very sad to be shortly saying goodbye to our wonderful Year 13 students; they have made such massive contribution to the school and the department, and we will really miss them! Particular thanks must go to Adam Kelly, who organised a really successful gig last week with his band 'The Metronomes'. This was a new venture for the school, and was very well organised - they raised over £400 for the Music Department.
Of our 15 students studying IB Music, A-Level Music and A-Level Music Technology, nine are going on this year to study music-related courses at university. What makes this department so special is the students who give so much; we are so proud of the way that all of them have developed; we wish them the best of luck!
Miss Swadkin