Trip to London with Japanese exchange students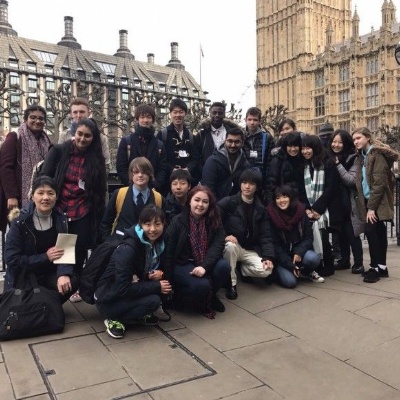 We were fortunate to host a group of students from Japan on an exchange trip. On the 1st March my fellow host students and I went to London with the Japanese students.
How best to show them the best of Britain than showing them how Britain is run, by visiting the Houses of Parliament. True to form the British weather did not let us down, being a cold and grey day as we made our way from Charing Cross to the Palace of Westminster, via Trafalgar Square and Scotland Yard. Once at the Houses of Parliament we were given a tour of the House of Lords; unfortunately we were unable to see the House of Commons as it was Prime Minister's Questions that day. The Japanese students found it very informative and we all felt quite overwhelmed seeing the building and the history behind it.
After this we walked up to get a river bus to Greenwich. Whilst on the river bus we went past a number of famous landmarks that we pointed out to our visitors whilst eating our lunch including landmarks such as The London Eye, Shakespeare's Globe, the Tower of London, Tower Bridge, HMS Belfast, the Shard, and then finally our destination, Greenwich by the Naval Colleges. Once off the boat we then ventured through the foot tunnel looking back at the views of Greenwich from across the river admiring the Naval Colleges with the Queen's House and Cutty Sark. We made our way back through the foot tunnel walking around the Cutty Sark. After this we went to Greenwich market and then through Greenwich park to look at the views of London from outside the Greenwich observatory where we showed the Japanese students the Meridian Line and where the Greenwich Mean Time is set. We all enjoyed the views from the top of the park looking down at the Naval Colleges and the river as well as the London skyline. We then made our way home. It was an enjoyable and informative day. Thank you to Mrs Everett for organising such a great trip.
Natasha Sidhu, Year 12