Congratulations to Year 11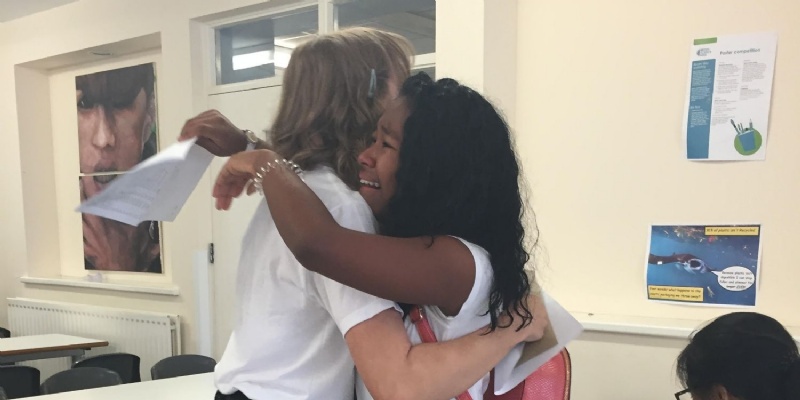 Year 11 students set a new school record of 27.4% 9-8/A* grades!
Above: Iarantsoa, achieving 12 A*/9-8 grades (see below)
BGS students have set a new school record for A*/9-8 grades of 27.4% despite the tougher new GCSEs in 20 out of 29 subjects.
Congratulations to the 188 Year 11 Bexley Grammar School students who have achieved an excellent set of GCSE results in the new 'reformed' GCSEs. Comparisons cannot reliably be made with previous years because of these reformed qualifications but these are a few highlights:
A*/9-8 = 27% (with 20 subjects assessed under the new GCSE framework)
A*-A/9-7 = 51%
A*-B/9-6 = 75%
10% grade 9s across 20 subjects
Our top student secured ten 9 and two 8 grades
29 students secured straight 9-7/A*-A grades
50 students achieved 10 or more 9-7/A*-A grades
Saki Okada gained a remarkable ten 9 and two 8 grades, an almost perfect set of results. Four students, Nana-Ekow Fynn, Temi Abodunrin, Iarantsoa Ramanoelina and Rosie Burrows achieved nothing below an 8 or an A*.
Headteacher, Mr Elphick, said, "These are strong statistics on their own but achieved in the new reformed GCSEs and set against our challenging curriculum in which every student studies 12 GCSEs, including all three separate sciences and two foreign languages, they become really excellent. Congratulations to students, staff and parents for such a successful partnership!"
These are strong GCSE results from a deliberately stretching, grammar curriculum which has made no concessions to the national trend of narrowing down options in order to play to school league tables. Students and their parents should be proud of these impressive results and our dedicated staff have been rewarded well for their commitment and belief in our students, particularly in the new specifications in 20 out of our 29 subjects. Congratulations!