World Book Day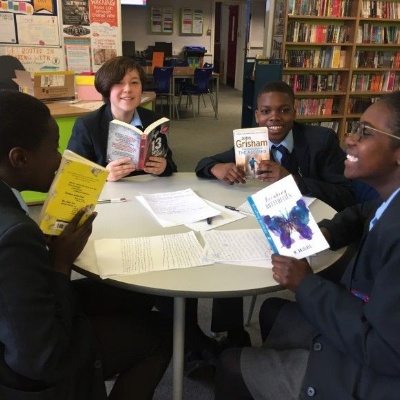 Once again, this year the school had planned a whole host of original events to celebrate World Book Day, on the 1st March. Yet as the most aware of you will have observed, this coincided with the snow days, when the school was closed. So, we did nothing for World Book Day. Article finished.
No! This school wouldn't really put off book celebrations by a bit of snow! In truth, we simply delayed the celebrations by a week.
During the day, students and staff could come in with a prop, from which others could guess which book they were thinking of. I saw quite a few Harry Potter wands in the corridors, and Mr Griffin had his Arsenal scarf. Personally, I took in 'the precious… Gollum!'
For Years 7 - 9, there was also a twenty-minute 'drop-everything-and-read' session, at a random unexpected time in the school day. Our school has held this tradition for many years now, and I still fondly remember being able to take some extra time out lost comfortably in a book (as opposed to lost helplessly in a maths problem).
In addition, Year 8 enjoyed a particularly special event this World Book Day: a visit from a published ghost-story author, Leo Hunt. His books are available from the school library. The whole year group received a door-opening lecture from Mr Hunt, in which he explained how he likes to go about his creative writing. Adding to this, some students were selected to attend his creative writing workshop during the day. Who knows? Perhaps one day we'll see their own writing published too. (See separate article about this visit by Mrs Carey).
Yet what about the upper years? Open to the whole school was the book Freecycle: staff and students' no-longer-wanted books donated over the past couple of months were spread out in the canteen, for anyone to help themselves to. I took two classic novels for myself, and also saw many conventional works and comic books taken to other new homes. No books should be wasted; there will always be a willing reader somewhere!
There were also two book quizzes: one for Years 7-9, and another for Years 10 and up. I thought I did pretty well on the complex questions (such as 'What is catharsis?'), even if I didn't do so well on simple name-the book cover. I guess I'm just cursed to overthink all things. Still, there were two Tolkien-based questions – and in case you haven't realised, Tolkien is easily the best author of all time – which makes this quiz perfect.
One final thing to mention is the after-school Kahoot quiz, held in the Library. As all students will know, Kahoot is an interactive quiz website, popular in this school. Teams were booked with Mrs Carey – a big thank you to her for organizing this!
In all, (delayed) World Book Day was a distinguished, fun-packed day for all – staff and students alike. Students were even given a £1 book token to spend. Special thanks go to Mrs Allen, Mrs Carey and Mr Griffin, and to the English prefects who helped organize these events.
Samuel Masters, Year 12
Leo Hunt - Author Visit
We were thrilled to have the author Leo Hunt join us for World Book Day (the second). He gave a lecture to all of Year 8, which was a fascinating insight into how he wrote his ghost story, '13 Days of Midnight', and created the gruesome characters in 'the Host'. The students had lots of excellent questions for Leo, including how he chose the names for his characters, which writers inspire him, how the publishing process works and even how much he earns!
Leo then ran 2 workshops with some of the Year 8 students, during which they had to create their own ghosts, answer a quiz about them, and then write an introduction to their story. Leo was amazed at how creative our students were, and how exceptional their writing was. We had a frustrated child prodigy ghost, a Banshee/Psiren cross that lured people in and then murdered them with her screeching and a ghost that had decided to be evil because in life he was nice and it hadn't gotten him anywhere. It was great to see the students so engaged with their writing, and one student told me he was going to go home and continue his writing as he was enjoying it so much.
Mrs Carey, Librarian