Sixth Form Japan Day at SOAS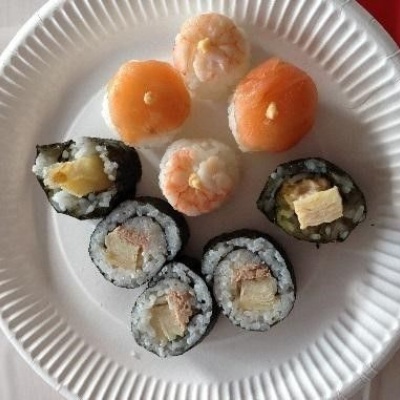 Students of our IB Japanese Beginners Course attended a special event held at SOAS on 9th November. All the students that were attending the trip first met at Charing Cross Station so that Mrs Everett (our Japanese teacher) could guide us to SOAS University of London. We walked the whole journey from Charing Cross Station to SOAS; it was quite long but still enjoyable.
When we arrived at SOAS, we were given badges with our names on them as they would allow us to move through the security to get to our different workshops. The badges were also colour coded to signify what groups we were in because all the groups had a different combination of workshops that they would do. After our school was registered and we had all pinned our badges on, we went into a lecture theatre to be given an introduction and brief for the day.
We were told what would be happening throughout the day and what they hoped to achieve, which was for us to have a clearer idea on whether to study Japanese at university. We were then sorted into our groups and sent on our way to our first workshops. The first workshop that I went to was the Sumi-e Workshop. Sumi-e is a traditional Japanese way of painting. It involves painting with ink and special types of brushes. I found it to be a wonderful experience because learning about a new way to create Art is something I enjoy a lot.
After the first workshop, we went straight into another one. The second workshop was the Manga Workshop. Manga was described to us as Japanese comics. Our instructor was a Manga artist and she taught us about the history of Manga and gave us a demo on how to draw a Manga character.
Next, we went back to the lecture theatre where we attended lectures by people who had gone on to work closely with Japanese people. The first man studied Japanese at university and now worked for a company that imports Japanese food into the UK. The second man was a university professor. He had a close friend who was Japanese and learnt a lot of morals and life lessons from him and wanted to share them.
We then had one last workshop and lecture. The workshop I took part in was for a Japanese dance called Yosakoi. The instructor was a woman who lived in Japan for a few years through the Jet program. The Jet program allows English speakers to teach English in Japan. She now works for the Japanese embassy in the UK. Whilst she lived in Japan she learnt how to dance Yosakoi, so she came to teach us how to dance a little Yosakoi too. It was an interesting and fun experience. The final lecture before we went home was given to us by two SOAS students. They gave us an insight on what it was like to study Japanese there. It seemed to be a challenging, but enriching experience.
To conclude, the day was very helpful in giving an insight to what studying Japanese is like at university level. It was a lovely taster into Japanese culture too, and really inspired some people on what they wanted to do in the future. If anyone gets a chance to go to Japan one day, they should definitely go.          
Annabella Lam, Year 12