Spanish Exchange Trip Part One: London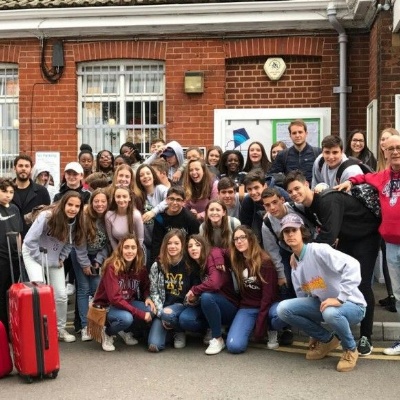 Last week marked the start of new friendships, discoveries and experiences for the Year 10 students who study Spanish and are involved in the exchange trip. As the first leg of the exchange, we received Spanish students from Colegio Marista in Málaga.
The exciting journey began at the airport with the most awkward pick up on Saturday morning. However, we all became really good friends by the end of the week and the awkwardness quickly passed. It was sweet to watch my exchange partner give gifts from Malaga to my parents; the thoughtful act gave my parents a really good first impression of him. Without wasting any time, we took it upon ourselves to go out with our Spanish exchange partners and show them what we do in London. The language barrier made communication quite slow but it definitely improved our Spanish and of course their English.
Sunday afternoon and my Spanish partner and I met with some others to do some shopping on Oxford Street and have lunch together. I certainly felt like I had become a tourist, taking a thousand and one selfies and spending 30 minutes in souvenir shops. They really enjoyed themselves and it allowed us to spend time with people of a different culture. One thing I noted was the Spanish students were a tightly knit group and as we met each day in school they greeted each other with hugs and kisses quite unlike how we English students greet each other.
The week was packed with enjoyable activities organised by our Spanish teachers, including watching Les Misérables in the Queen's Theatre, spending time in Covent Garden and a night out bowling. We were also very lucky to be able to miss a day of school on Thursday to join our Spanish friends on an outing to London. We travelled to the London Eye where again we took an incredible amount of photos together with them and I'm sure like myself they must have run out of storage on their phones. We did a lot of sight-seeing before returning to Greenwich on the Thames Clipper. They were so intrigued by the high rise buildings we saw, such as the Shard, while we barely looked twice as we are so used to seeing buildings of that sort. It was certainly a fun day out and though tired when we got back home, my partner and I stayed up till late watching movies and eating pizza. On Friday we returned to our normal school routine while the Spanish students bought many tourist gifts at affordable prices in Camden to take home with them. They were all very pleased with their purchases when we met them at the station holding several bags that were bulging with bought items.
The week zoomed past and Saturday morning came so soon with the realisation that we wouldn't be seeing our Spanish partners until a whole month later. There were many hugs and even tears as we said our goodbyes at the station. My mum was probably more upset than I was as she had grown really fond of my exchange partner and it was the last time she would see him in a very long time. Now I'm looking forward to going to Spain on June 11th as well as everyone else on the trip, it's bound to be just as fantastic as the first part of the trip and although the trip ends after we leave Spain, I'm certain our friendships will last for longer.
This amazing opportunity we've been given to improve our Spanish and make friends wouldn't have been made possible without the hard work and great co-ordination of our teachers, Mr Stewart and Miss Orchard.
Joy Akinleye, Year 10