Young Enterprise Win Again!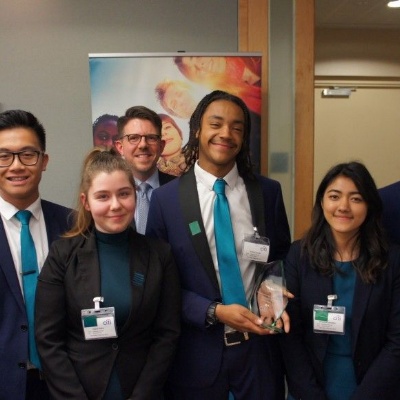 Oops, we did it again! On the 4th May 2017, 5 members of Bexley Grammar's Chameleon Dental competed in Citi Bank, Canary Wharf against the qualifiers of the regional finals for Young Enterprise's Best company in East London.
They were Tyreece Jacobs, Shyon Gredley, Samson Co, Swechha Kansakar and Irgena Dibra. We were required to produce a report, trade stand and presentation of our product which we presented to a large audience and a panel of judges. After an immense, nerve racking competition came the awards ceremony. Best overall company in East London is the award that provides the place in the next stage of the competition and therefore is the most prestigious award. Chameleon Dental sat silently as other teams were given awards for best report/presentation and trade stand. Along came the best overall company award… Hearts were pumping and blood was racing as the judge proudly called 'Chameleon Dental' and after all the anxiety had built up in me, when I heard our company I literally thought I was dreaming. Luckily, I wasn't. We had really won the Best Overall Company in East London.
We look forward to the next stage, which will be the UK finals, to be held at the HSBC bank in Canary Wharf. We currently have two prototypes of our product. One is an eco-friendly version and another is a plastic chameleon shaped brush. They are both colour changing toothbrushes designed to provide children with an incentive to brush their teeth for the required 2 minutes. The brushes contain a strip of Thermochromic material which responds to heat by displaying wild colours.
I am proud of how far the team have come and can truly say, partaking in Young Enterprise has been an amazing experience and I really would encourage students to take part in similar educational programmes. We are truly grateful to have such a supportive school.
If you would like to see more about who we are and our product our website is: www.chameleondental.wordpress.com.
If you would like to purchase one of our Thermochromic brushes contact us via email:
chameleonbrushes@gmail.com
Tyreece Jacobs, Year 12
Managing Director of Chameleon Dental
I am incredibly proud to announce Chameleon Dental as the Best Company in East London. They were truly fantastic and the place was alive with discussion of their product. The team, and especially these five competing members, worked incredibly hard in the lead up to this competition and it really has paid off. They are the second team from Bexley to have ever reached the London final of the company competition - the first being last year's team with their 'Man Can'. An outstanding achievement, well done and congratulations to all involved.
Miss Wood, Young Enterprise Coordinator