Accounting's not boring!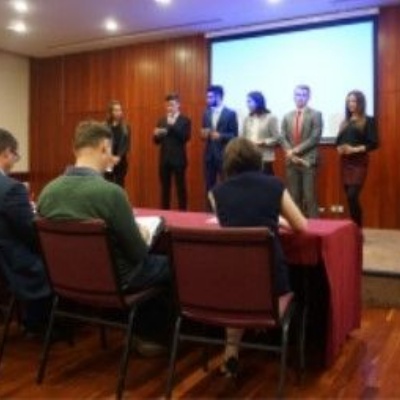 Over the past few years we have noticed a significant increase in interest from our Sixth Formers in the accounting profession. Quite a number of our students go on to study this subject at university, sometimes assisted by one of the big four audit firms such as KPMG or PricewaterhouseCoopers. In addition, some of our students join these accounting firms as school leavers as they like the idea of being employed whilst studying for their professional qualifications.
With this in mind, we try to field teams in a national competition sponsored by the Institute of Chartered Accountants of England and Wales. Participation in this helps our students find out more about the profession and gives them something tangible on their CVs that might eventually help them in any future application for a finance/accounting career or course at university. At the end of last term, the school fielded two teams of six Year 12 Business Studies and Economics students to compete in a regional heat. Two students have written their impressions of the day.
Mr Joe, Head of Business Studies and Economics Department
On the 22nd March, Mr Joe took 12 Business and Economics students to Fitzwilliam College in Cambridge to compete in one of the heats of the ICAEW Base Accounting Competition. Whilst our two teams worked on a case study, with the help of an accountant, to create a SWOT analysis, identify the main threats and opportunities of the business and then create a suggestion for the future direction of the business. After these stages, we had to present our ideas and findings to a board of judges. My group comprised of Leah Cann, Ijaz Fayaz, Teddy French, Katie McGinn and Noah Robinson, and we made posters and flash cards to help us in our presentation. After making our presentation, we were all given the opportunity to talk to members of different firms such as KPMG and PwC to learn more about all of the post-school opportunities that they offer. Once we had spoken to all of the firms, we went back to find out the results of the presentations, and although my group wasn't in the top 4, we were happy to support the other group from our school in the next stage. Overall, the day was a lot of fun and we all left having learnt many new skills to help us with a career in accounting or business.
Chelsey Goodrich
The competition was held in a hall with 12 teams from the region competing against each other for a place in the national final held in Birmingham, but more importantly, we were there for an enjoyable experience and an insight into the life of an accountant. The day consisted of a brief introduction, three tasks with a limited amount of time to complete each one, a break in which we could meet students from top accountancy firms and finally the presentations and results. The teams worked brilliantly well together alongside qualified accountants who were there to support each team for the duration of the day. These tasks were based on a case study of a business in which we had to produce a SWOT analysis to reveal the problems and challenges, leading to a final conclusion where we had to present our strategies to help the business improve in the future. Whilst our team (James Crumpton, Samantha King, Henry Murati, Siddharth Patel and Anna Zavolnyi) were finalists in the day's competition, we did not get first place and the chance to go through to the National Final.
Hannah Wray